This store requires javascript to be enabled for some features to work correctly.
Schrumpffolien - Spektakel mit Siebdruck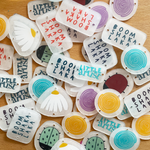 Raue Seite bedrucken und trocknen lassen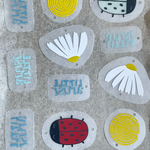 lochen wenn gewünscht und in form schneiden (Folie schrumpft bis zu 50%)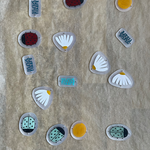 nach anleitung backen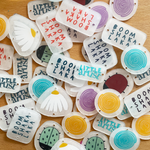 tada.
Du brauchst:
• Schrumpffolie
• Akkolade Siebdruckequipment
• Heißluftföhn oder Backofen

Kleine Anleitung:
Schritt 1:
Ihr besiebdruckt die matte Seite eurer Schrumpffolie mit eurem Wunschmotiv.
Vorsicht! Bei Schriften unbedingt spiegelverkehrt drucken!

Schritt 2:
Trocknen lassen. Entweder warten oder kurz trocken föhnen.

Schritt 3:
Nun kannst du die Folie in die gewünschte Form schneiden. Möchtest du die Schrumpffolie später annähen, oder als Anhänger verwenden, musst du sie entsprechend lochen. (Alles, auch die Löcher werden nach dem Schrumpfen, circa 50 % kleiner.)
Pro Tipp: Ecken abrunden

Schritt 4:
Jetzt wird's wild ;-)
Entweder du schrumpfst du die Folie mit dem Heißluftföhn auf Steingut (das kannst du dir in Verenas coolem Reel anschauen) oder ganz easy im Backofen (einfach die Herstellerangaben der Schrumpffolie beachten).
Kurz bevor die Folie vollständig abgekühlt ist, kannst du sie auch noch vorsichtig mit einem flachen Gegenstand platt drücken. (Achtung heiß!)

Schritt 5:
Wenn du magst, kannst du dein Ergebnis noch mit Klarsicht top coat Nagellack fixieren und so "kratztest" machen.

judithmachtdas hatte die tolle Idee die Folie zu besiebdrucken! Und wie toll das klappt! Schau dir diese Mini Details an 🥰 Pro Tipp: 3D Farbe funktioniert auch


Falls du Fragen hast schreib mir gerne an: hello@akkoalde.studio
Viel Spaß
Jeannine und Verena
Boom Shaka Laka als Annäher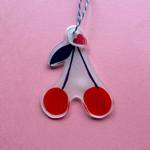 die schönen Kirschen als Kette oder Anhänger
Dieses tolle Beispiel ist von Lena @WolfundFaden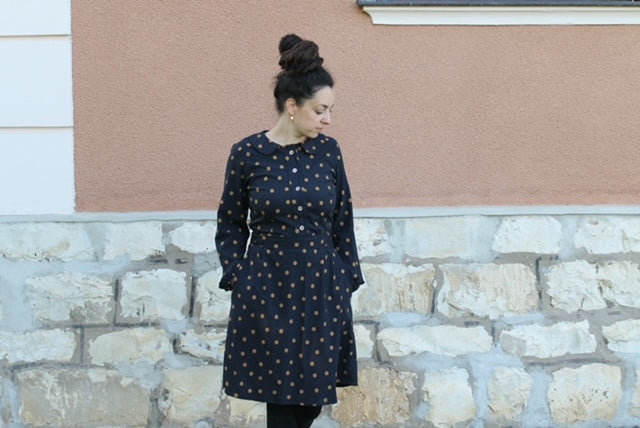 Jeannine von Zuckerzeug
Ich bin Jeannine und lebe mit meiner wilden Bande und einem verrückten Katzenrudel ländlich in der Nähe von Nürnberg.
Seit ich denken kann, liebe ich es, in sämtliche Richtungen kreativ zu werden. Vor ungefähr sieben Jahren bin ich dann dem Nähen und Siebdrucken vollkommen verfallen und nutze seither jede freie Minute dafür.
Und wenn ich gerade mal nicht am Werkeln bin, sitze ich mit meinen Kindern und einem Cappuccino im Café und sinniere über das nächste kreative Vorhaben :-)
Jeannine auf Insta
andere Beiträge die dich interessieren könnten
Coole Moosgummi - Stempelei Mit den wasserbasierten, deckenden Textilfarben lässt es sich nicht nur wunderbar siebdrucken, die können noch viel mehr :-) Sie eignen sich...
Oh yes! Mit den neuen fertigen Leo Sieben kannst du kinderleicht Meterware mit Leo Muster bedrucken. Du musst auf nichts achten, einfach das Sieb nacheinander...
Your store hasn't published any blog posts yet. A blog can be used to talk about new product launches, tips, or other news you want to share with your customers. You can check out Shopify's ecommerce blog for inspiration and advice for your own store and blog.